Silicone Mould for 4.5 inch Layer Cake Pan Round Cylinder Rainbow Cake Pans Vegetable Pancakes Pizza Crust Omelet Frittata Set of 4
| | |
| --- | --- |
| Quantity | Price |
| 1+ | $9.90 |
| 10+ | $7.92 |
| 50+ | $7.13 |
Buyer Protection

30 Day Returns Guarantee
Full or partial refund if the item is not as described
Full refund for damaged items
---
Product Description



Homemade Rainbow Cake are healthier & more economical.
Making Layer cake yourself is a fun hobby being enjoyed by countless people around the world. It is a perfect gift for adults and children alike to make Rainbow Cake!
Silicone Rainbow Cake Pans is flexible and non-stick, very practical and durable.
You can create your own special Handmade Rainbow Cake
How To Make Rainbow Cake:
Step 1 Prepare the Cake: Preheat oven to 350°F. Grease and flour 5 (4.5-inch) round cake pans. Stir together cake mix, water, oil and eggs until fully incorporated and batter is not lumpy.
Step 2 Divide batter among 5 bowls (about 1 1/2 cups per bowl). In 1 bowl, add strawberry gelatin powder and 2 drops of red food coloring or until desired color. In second bowl, combine lemon powder and yellow food coloring until desired color. In third bowl, combine orange powder and orange food coloring until desired color. In forth bowl, combine lime powder and green food coloring until desired color. In fifth bowl, combine grape powder and purple food coloring until desired color.
Step 3 Pour individual batters into prepared cake pans, and bake in preheated oven until wooden pick inserted comes out with moist crumbs, 18 to 20 minutes. Let cool completely. Flatten tops of cakes by trimming off rounded tops.
Step 4 Prepare the Frosting: While cakes cook, beat butter in the bowl of a stand mixer until fluffy and lightened in color, about 3 minutes. Add powdered sugar, and beat until smooth and fully combined. Scoop about 3 tablespoons of frosting into each of 5 small bowls. Color 1 bowl with 1 drop of red food coloring, 1 bowl with orange, 1 bowl with yellow, 1 bowl with green, and 1 bowl with purple. Set aside for decorating.
Step 5 Place the red cake layer on a cake plate, and spread a thin layer of the remaining uncolored frosting on top. Top with the orange cake layer, and spread a thin layer of uncolored frosting on top. Repeat process with yellow cake layer, then green. Place a clean, empty, skinny can with top and bottom removed (such as an asparagus can) on center top of 4 cake layers. Press can down through all 4 layers, and remove to create a hollowed-out center. Discard cake center or reserve for another use. Fill inside of cake with Skittles. Spread a thin layer of uncolored frosting on fourth cake layer. Top with purple cake layer, and spread a thin layer of uncolored frosting on top and sides of cake. Refrigerate 30 minutes.
Step 6 Meanwhile, drop 2 to 3 drops of blue food coloring in remaining frosting until desired color. Remove cake from refrigerator, and frost completely with blue frosting.
Step 7 Fill 5 individual ziplock plastic bags or piping bags with each color of reserved frosting (1 color per bag), and pipe a rainbow on 1 side of the cake. Dab a little frosting on the sticky side of a marshmallow half, and stick it to the bottom of the rainbow, resembling clouds. Repeat with remaining marshmallows, 3 halves on each side of rainbow.
Step 8 Place all 5 bags of colored frostings in a large piping bag fitted with a star tip, and pipe a border on the top of the cake. Sprinkle any remaining Skittles around border of the cake. Slice cake.
RAINBOW CAKE SHOW
| | | |
| --- | --- | --- |
| Allow you to easily create all sorts of amazing Rainbow Cakes flavors in your own home. | Suitable for Create homemade Rainbow Cake,Pizza Crust,Omelet,Frittata. | The Round Cylinder Rainbow Cake Pans is flexible and with non-stick surface, which allows the baked goods to pop out easily with little push from the bottom.You can design with your family or friends by making Rainbow Cake |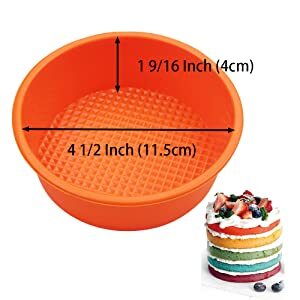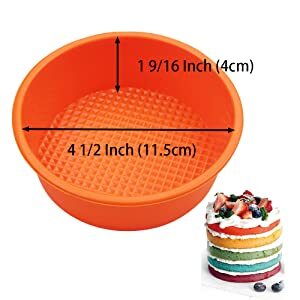 NOTES:
1.Do not use knives or other sharp tolls on silicone moulds and avoid stress, pull..
2.Please do not use cool water to clean immediately when it's just taken out of the oven. Just to extend the service life.
3.After each use, please clean your Rainbow Cake Pans, and store it in a dry and cool place, can be reused.
HERE ARE THE MAIN BENEFITS OF THE RAINBOW CAKE PAN
ENJOY RAINBOW CAKE

Rainbow Cake Pans cute and practical; Round Cylinder Rainbow Cake Pans has 1 hole with Round Cylinder patterns which will make a beautiful design on your Rainbow Cake

SAFE MATERIAL

Rainbow Cake Pans is made of high-quality silicone, which is food grade, heat and cold resistant, flexible but sturdy enough to serve for a long time

EASY TO USE

Flexibility and non-stick surface of the Round Cylinder Rainbow Cake Pans ensure very easy removing of the moulded ; silicone Round Rainbow Cake Pans are also easy to clean and store

PERFECT GIFT

It can be a perfect gift for wife, daughter, women, girl, valentines, Christmas, baby shower
Package Dimensions:

6.34 x 4.88 x 2.05 inches
Item Weight:

7.1 ounces
Manufacturer:

YWPANDORA
ASIN:

B08J7RM95P
Customer Reviews:

4.7 out of 5 stars
Best Sellers Rank:

#120 in Round Cake Pans

Your cart is currently empty.