BAKER DEPOT Silicone Mold for Handmade Soap, Cake, Jelly, Pudding, Chocolate, 6 Cavity Rose Design, Set of 2
| | |
| --- | --- |
| Quantity | Price |
| 1+ | $8.90 |
| 10+ | $7.12 |
| 50+ | $5.96 |
| 100+ | $4.45 |
Buyer Protection

30 Day Returns Guarantee
Full or partial refund if the item is not as described
Full refund for damaged items
---
Product Description


With the silicone mold you will be able to backs CUPCAKE, MUFFIN, CANDY, BREAD, MOUSSE, JELLY, PREPARED FOOD, CHOCOLATE AND MORE.
TIPS:
1. When you make the cake, please do not pure full cake slurry into the mold, just make it 3/4 full. The cake will expand when making.
2. When you get the molds and first time to make cake or chocolate. First of all, please fill the water in the molds and put into the microwave or oven transfer for 1-2 minutes, then drain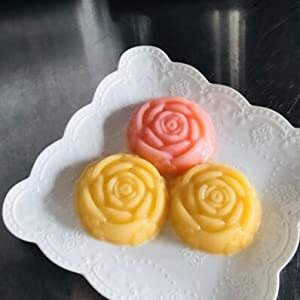 NOTES:
1.When baking, it' s better to put the mold in the flat baking tray as the silicone mold is soft.
2. After use, please clean it using hot water with dilute edible cleaning agent or put in dishwasher. DO NOT use aggressive cleaning agents or foam cleaning force. Ensure that the silicone molds are dry before storage.
3. After baking, please remove the molds out of the oven, and place in the baking rack until the molds completely cooled.
4. Silicone molds can only be used for oven, microwave ovens, and DO not use in gas and fire..
5. Do not use knives or other sharp tolls on silicone molds and avoid stress, pull..
6. Please do not use cool water to clean immediately when it's just taken out of the oven. Just to extend the service life.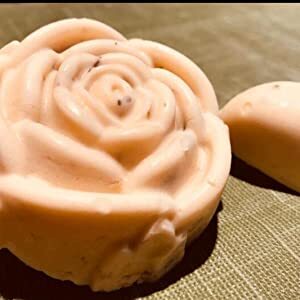 Frequently problem answer
1. -Question: I have used this product 3 times and few "dimples" are already starting to tear away from the base.
-Answer: The mold may be stored quite a while and has been pressed down, and shapes changed. Please place it under the sun or place in oven or place in a high temperature. The shape then will be restored.
2.-Question: Please let me know the temperature of the mold can suffer.
-Answer: In general practice, can suffer within the temperature between -40~220 centigrade, in some case can suffer 260 centigrade. Please note silicone mold, which can suffer temperature higher than 260 centigrade (500 degrees fahrenheit) or temperature lower than -40 centigrade (-40 degrees fahrenheit), may be additive, is not 100% pure silicone.
3.-Question: Why the mold soft a bit?
-Answer: For flexible reason, we design the mold a bit soft, so you may easily un-mold. If you need a more sturdy support when transfer or move, you can put it on a tray or another mold.

Your cart is currently empty.